The 2022 Subaru Love Promise Customer and Community Commitment Award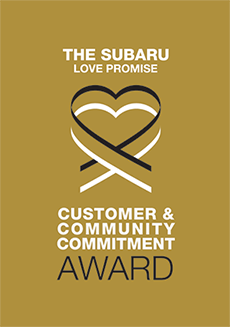 We've been nationally recognized for our dedication to our customers, our community, and the Subaru Love Promise.
We're honored to receive the 2022 Subaru Love Promise Customer and Community Commitment Award. This award nationally recognizes elite Subaru retailers who provide an exceptional customer experience at every interaction with Subaru. These retailers have also demonstrated an outstanding commitment to supporting passions and causes in their local communities in important areas such as the environment, community, health, education, and pets.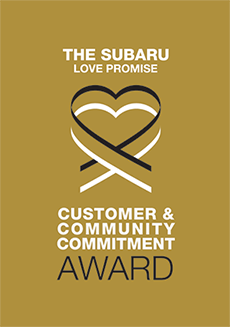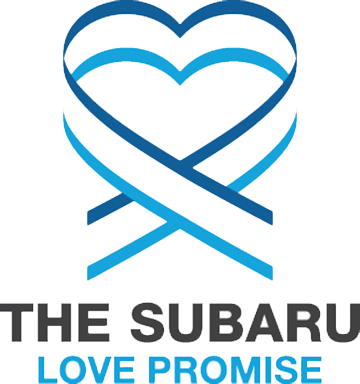 What is the Subaru Love Promise?
Subaru and our retailers believe in making the world a better place and the Subaru Love Promise is our vision of respecting all people. This is our commitment to show love and respect to our customers and to work to make a positive impact in the world.
How is Dahl Subaru dedicated locally to the Love Promise?
The families at Dahl Subaru are committed to making an impact on our community; not only by providing a trusted place of business for our guests, but also by giving back to great organizations through volunteering, using our talents, and financial assistance. We work to make our communities stronger, more supportive of those that need it most, and provide an overall better quality of life for those in need.
Coulee Region Human Society, ASPCA
Mississippi Valley Conservancy, Outdoor Recreation Alliance, Winona Ski Club
La Crosse School District, Western Technical College, UWL Foundation, Wisconsin Public Television, Viterbo's Dahl School of Business
Family & Children's Center, Gateway Area Council/Boy Scouts of America, Hunger Task Force, Habitat for Humanity, American Red Cross
Steppin' Out in Pink, La Crosse Area YMCA, National MS Society, Coulee Council on Addictions, American Heart Association/Go Red For Women
Love Promise Stories from Dahl Subaru
Subaru and Dahl Subaru believe in making a positive impact on the communities in which we live and work. We uphold that belief through our Love Promise Community Commitment. Every month, we select inspiring stories from customers and partners from around our area who strive to support our collective commitment and feature them here
Gratitude to Dahl Subaru - Jamie K
Dahl Subaru shares the love with those who need it most, and for Family and Children's Center, those who need love the most are oftentimes children. Dahl Subaru donated $32,610, its largest contribution of 13 years from its annual Lube-A-Thon event to support child abuse prevention programs. Thank you Dahl Subaru for making a difference in the lives of children and families. Unfortunately, child abuse is wide-spread and can have substantial long-term effects on children and their families. Children who have been abused show some or all of the following behaviors: depression, anxiety, aggression, nightmares, regression, bedwetting, changes in routine activities and inappropriate sexual activity. Adult victims of abuse often have low self-esteem, social difficulties, have difficulty maintaining employment, and are three times more likely to commit violent crimes. The most significant result of abuse is persistent mental illness, which can greatly affect the ability of an individual to function productively on a regular basis. Untreated mental illness often leads to homelessness, incarceration, violence, victimization, suicide and reliance on government funded support programs. Prevention is key. That is why Dahl Subaru's investment in Family and Children's Center prevention programs is so critical. Dahl Subaru promoted the Lube-A-Thon, their employees participated and donated, and most importantly, they communicated to their patrons the importance of the event. As a result, they held the most successful event in the history of the Lube-A-Thon. From the leadership team, to sales, to client care, service, parts and detail, the members of the Dahl Subaru family support and strengthen the communities they serve. Family and Children's Center truly appreciates Dahl Subaru's commitment to supporting prevention programs, serving the community, and sharing the love.
---
Zoey's New Lease on Life - La Crescent Animal R
When Zoey came to us in July, 2021, she was very scared and afraid. She hid in the back of her cage and would shake when people came near her. She had been surrendered by her owner who made the heart wrenching decision it would be best for Zoey to find a new home. Her human also had a large dog with a loud bark that frightened Zoey. She hid behind the couch a lot of the day and as a result, she became very obese from lack of activity. Fluoxetine was prescribed to help with her anxiety without much success. She was also started on urinary food for stress bladder. Fortunately she had not yet developed any health problems due to her obesity. Due to all her fears, she was placed in a quiet foster home with no other pets. She eventually came out of her shell and her personality blossomed. She had no applications filled out for her until the increased awareness brought on by Subaru Loves Pets. She finally received an applications and fortunately for Zoey, it was a perfect match. She is no longer on her medication and is a much calmer, happier cat that can now relax in her current environment. She can be much more active now as well. She receives lots of pets and love from her new owner She has also been a perfect fit for her new human who says, "She always has to be the center of attention in the best way and will let you know when she wants pets by meowing at you. She is definitely independent but knows exactly when you need her support and loves to sit and watch movies or tv with you." Subaru has been a wonderful partner and seems to truly care about helping animals. Their donations will help us to continue helping more cats and dogs in the future! Thank you Subaru!
---
Together, We Are Making A Difference - Amy H
The La Crosse Area Family YMCA would like to extend a heartfelt thank you to Dahl Subaru of La Crosse for their support of our Y and our Youth Food Program! The donation we received helped us continue to provide more than 700 free meals to children in our community every day. This summer, we were able to expand our food program to additional locations so that we could help more children receive the nutritious fuel they need to be happy, healthy, and productive humans. This would not be possible without the generosity of individuals and businesses, like Dahl Subaru of La Crosse and the Dahl family. Thank you for selecting our Y as the hometown charity for the Subaru Share the Love event and for your continued dedication to help make our community stronger.
---
The Pets Say Thank You! - Nena V
This year has been a rollercoaster ride for many, and while we have had to change, adapt, and rethink many things, one thing has stayed consistent, and that is the animals that need our help. Dahl Subaru helping us by donating up to $3,100 will provide a great deal of support to help current and future animals in our care. This year we have had numerous medical bills for everything up to eye removal to leg amputations, as well as severe dental and various other medical procedures. One of the many who needed our care was Mimi. She was found in a car's undercarriage, where she had been hiding for over an hour. With the help of a passerby, her rescuers tried to coax her out by using a jack to lift the vehicle so they could free her. They reached out to Animal Control, who brought her to the shelter where her only significant injury was a swollen bottom lip. After a few weeks in foster care, Mimi was ready to go to her new forever family. Earlier this year, a stray dog named Rocky came into our care. It was apparent from the start that his previous family did not meet Rocky's grooming and health needs. Not only was Rocky's coat matted and dirty, but it was evident that he would also require dental and significant eye care. His left eye was severely infected, and his right eye looked like it had glaucoma. We were able to get Rocky seen, and thanks to a generous donor, we were able to turn Rocky's health back around. Now Rocky is living his best life with a family that deeply loves him. These are just a few of the many animals that we have helped this year. With Dahl Subaru's donation, we know that we will help many more animals in the future.
---
Annual Dahl Lube-A-Thon - Jamie K
Dahl Automotive continues to step up and serve our community! No one knew, the twists and turns that 2020 would bring but Dahl Automotive has risen to the occasion, adapted and has found new ways to continue to support the communities they serve! Family & Children's Center is forever grateful for all the support they have provided to our child abuse prevention and early intervention programming. Dahl Automotive has led by example, giving personal gifts and encouraging all of their employees to step up and volunteer their time and talent to give back. Every year, their employees have answered that challenge. While they were unable to host their traditional Lube- A Thon weekend event, they turned the one day event into a month long event to ensure our most vulnerable community members are receiving the help that they need - through their incredible generosity. Dahl knows and understands that only 1 in 3 children ever get reported for abuse – and 1 in 10 children will be the victims of sexual abuse by the time they are 18. This means that on every playground, classroom, places where kids congregate someone is being harmed, will be harmed or will be harmed in the past. Dahl Automotive has said, not on our watch. They have been an amazing partner and really care about making our community a better place! Not just for us but for all those they give back to.
---
Fighting Hunger and Fueling Futures - Amy H - Amy H
Every day, the La Crosse Area Family YMCA offers programs and services that help address needs in our community - and we can't do it alone. We would like to express our gratitude to Dahl Subaru for their generosity and support of our Youth Summer Food Program. During the summer months, 1 in 5 youth in our community are at risk of hunger because they cannot count on meals at school. This year, when schools closed more than two months ahead of schedule, the need for this program became more critical. Dahl Subaru played an important role in helping the Y serve 3,000 free meals weekly to youth and families. Thank you for selecting our Y as the hometown charity for the Subaru Share the Love Event and for donating a vehicle to help us deliver meals to more neighborhoods in our community!
---
Dahl Automotive Announces "One Team Fund" - Tyler D
The Dahl Family is proud to announce the establishment of an internal team member fund to better support our team members and their families, during the pandemic and beyond. "Our team is our number one priority, every day. This fund will provide financial assistance to team members and their families who are currently experiencing hardships" says Andrew Dahl. The Dahl Family (Andrew, Jansen, Tyler and Harry) have individually seeded the fund with combined contributions totaling $50,000. The funds will be distributed to team members through an internal grant process, with the first funds expected to be distributed by the end of April.Other ways that Dahl Automotive is helping support our team: • Continuing to provide updates, through detailed communications, on how to best protect our team's health and well-being • Focusing on continued employment and financial security as additional top priorities for our team • Giving full time team members additional Paid Time Off days to use as needed• Committing to our team that they will make as much or more than the increased unemployment rate while working during this essential time • Providing individual guidance to each team member on the availability of government programs and ensuring that our team has a full understanding and access to these programs One of Dahl Automotive's Core Values is: "Promote Giving Back to the Community." Dahl Automotive is assisting the La Crosse Warming Center with donation pick-ups for its new location at Cathedral School. The Dahl Ford Lincoln dealership has donated the use of a Ford Transit van to be used for donation pick-ups from the community.The Dahl Family Foundation is also contributing $25,000 to the La Crosse Community Foundation's La Crosse Area Emergency Response Fund, and $25,000 to the Winona Community Foundation's COVID-19 Relief Fund. These two donations will help those most in need, through charitable organizations in each community.
---
11th Annual Dahl Lube-A-Thon - Josh F
On September 21st, 2019, Dahl Subaru hosted their 11th annual Lube-A-Thon to benefit the Family and Children's Center of La Crosse. Dahl Subaru's employees donated their time and all of the supplies were donated so that 100% of the proceeds went to the Family and Children's Center to use towards their Child Abuse Prevention Programs in the La Crosse area. This year, we raised $15,000 for the Family and Children's Center. It feels great to partner with an organization that does so much for the families in our community.
---
Dahl Subaru Helps Pets Find Homes - Megan K
For the 5th year, the Coulee Region Humane Society partnered with Dahl Subaru to help dogs find loving forever homes and help bring attention to the many cats and kittens in our care. This event is huge for us at the humane society because it gives us an opportunity to go into the community and spread the word about all of the animals that are waiting to find new homes. Additionally, Dahl Subaru covered the cost of adoption for the dogs that were featured making it possible to find homes for harder to place dogs that may have been a resident at our shelter for longer than we would hope for. In the end this event was a great success with every dog being adopted! We're so grateful for our continued partnership with Dahl Subaru.
---
Delivering Hope! - Karen R
Dahl Subaru and the Wisconsin Chapter of the Leukemia & Lymphoma Society visited the Gundersen Cancer Center on Thursday, July 18 to show their support for patients undergoing chemotherapy.As part of the national "Subaru Loves to Care" campaign, team members from Dahl Subaru brought blankets, craft kits, and handwritten messages of encouragement from their employees and customers and delivered them to individuals receiving cancer treatment. Both the Gundersen staff and the patients LOVE this program. We are so truly lucky to have Dahl Subaru give generously and support the La Crosse area cancer patients!
---